Please note that the office closes at 2 pm on Thursdays. The building will still be open until 4pm for collection of any items from your pigeon holes and a post box is outside the main door for WI correspondence, ticket requests etc.
The office is becoming increasingly busy so this closing time is to give the staff two quiet hours to work undisturbed.
We thank you for your understanding.
---
How to Find Us
Our office is in Unit 11 at Park Farm Business Centre, Fornham St. Geneive, Bury St Edmunds IP28 6TS.
The entrance to the Business Centre is from the B1106. On entering go straight ahead, turn right, turn left, there is a big carpark on the right hand side where you can park. Please see Parking at Park Farm for alternative parking spaces. On leaving the car park walk though the gap with the telephone box and our office is at the end on the left.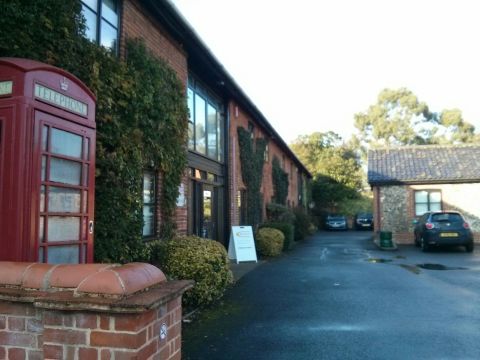 ---
Parking at Park Farm
When you visit us at Park Farm please do not park in the first car park on the right hand side as you come up the drive. This car park is used by patients attending the pain management clinics on the front row of units. Other car parks are located on the corner on your right hand side, a little further round also on the right hand side and a large car park can be accessed by following the roadway round keeping the Bilco building on your left, go past the hard standing for lorries on the right hand side and continue round behind this area where you will find a large car park. A pathway leads back towards Unit 11. A map of parking areas is available from the office. If you feel that walking from these car parks would cause you any difficulty, please ring Rachel or Rachel on 01284 336645 who will arrange for a parking space to be made available outside Unit 11. Thank You.
---

POSTAGE – Please help us to keep our costs down!
We have yet again had a letter with the incorrect postage on it, we had to pay the difference between the postage affixed to the letter and thecorrect postage PLUS £1 in each case. Please will you put the correct postage on any correspondence sent to the office. If you just send one piece of paper but put it in an A4 size envelope it MUST have a large letter stamp attached or stamps to the value of £1.01 for first class or 79p for second class. A5 sized envelopes can be posted with a standard stamp affixed of 67p first class or 58p second class but must not weigh more than 100g, if they do, please again use a Large Letter stamp. Thank You.
---

TICKET SALES/REFUNDS
Please can we remind you of the procedure for the Sale and Refund of tickets.
Refunds can only be given if we have a reserve list and another member is able to purchase the ticket. When this happens a £2 fee will be deducted for admin costs. Alternatively you are able to sell the ticket yourself to another member – in this case please advise the office of the name of the person who has purchased the ticket.
Booking through your WI:

Please note: If you write your name on a booking form at your WI meeting you are committing to pay for this ticket and you will be responsible for reallocating it if you cannot attend. Please notify the Federation Office if you cannot attend as there may be a waiting list, if there is no waiting list you can reallocate the ticket but please make sure you have informed the office and they have the name, telephone number and email address of the person taking the ticket. This is to ensure the group leader has all correct contact details. This is of particular importance for coach trips and outings using individuals own transport.
Your WI will be invoiced for all tickets booked through the WI, so be sure to pay your treasurer.

Booking independently:

If you wish to book independently for an SWFWI event please complete a booking form and either post this with a cheque and stamped addressed envelope to:
SWFWI
Unit 11
Park Farm
Fornham St Genevieve
IP28 6TS
Suffolk
or return by email to: office.swfwi@gmail.com giving details of how you will be paying for and collecting your tickets.
We are happy to take ticket requests by email/phone however this MUST be followed up with payment within 7 days otherwise we can no longer reserve them.

Pre-Paid envelopes

Please may we remind you that you no longer need to send in pre-paid envelopes when ordering tickets. Tickets will generally be sent out with the mailing to WIs. Thank You.
---

MONTHLY INVOICING
Can I remind you all that with effect from April 2015 you no longer need to send in payment with your ticket requests, stationery orders etc. Since the original information went out I have had a few queries and would therefore like to confirm the following:
WIs are able to request tickets by post, email or telephone.
There will be no need to send in a S.A.E.
Tickets will be sent out well in advance of any event, however where possible they will be sent out in one batch.
individuals who would like to book and pay direct through the office and not through their WI can STILL continue to do so as they do now.
If you have requested and been sent tickets it is given that full payment will be made and any refunds or exchange will continue as per current procedures. As now, the WI is responsible for getting payments from their members when tickets are booked.
Invoices will be sent out at the beginning of every month to the treasurer (unless the office have been told different) with full payment to be made within 30 days.

Kind regards
Rachel
---

PROMOTIONAL MATERIAL
Please remember we are here to help you.
Would you like a supply of personalised book marks with your WI details or posters advertising your monthly meeting or a special event?

Yes? – then contact either of the Rachels at Park Farm and they can arrange this for you.
_
---